Surviving COVID-19 at Home with Children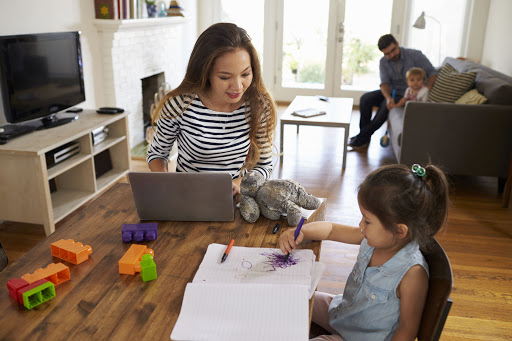 Surviving COVID-19 at Home with Your Children
I think it's relatively safe to say that most of us did not expect to be in this position…schools closed and finding ways to manage work and family at home.
This can be a very stressful time for parents who cannot easily work from home. Over the week, I've been asked several questions: Why are people buying out toilet paper…how do I talk to my child…what I should do about my own worry…? Here is my attempt to answer these questions and provide support.
Why are people acting crazy?
It's a valid question… Anxiety and "fear of the unknown" plays a big role. Here's why: Our brains are hardwired to sense danger and ultimately protect ourselves.
Unfortunately, emotion sometimes impairs our perception of risk. In general, we fear unlikely, catastrophic events, more than common deadly events. In the case of COVID-19, assessing risk has proved difficult because we don't have enough objective knowledge as the disease is still evolving.
When humans feel a "perceived lack of control" we start to see people take on more unusual behaviors like stockpiling on toilet paper or panic-buying for months. Another explanation for this odd behavior is what psychologists call "availability bias" and observational learning. We (humans) tend to let an example that easily comes to mind affect decision-making or reasoning. A simple and benign example of observational learning is while out to eat with friends, one person takes a drink of water and shortly after other people at the table pick up their drinks and take a sip. To us, this happens unconsciously, but our brains have been simultaneously processing the conversation at the table and observing behavior.
Complicating matters, we are uniquely bad at spotting misinformation online, in part because we don't take the time, or don't know how, to properly fact-check. Our memories play tricks on us, encouraging us to believe things we read repeatedly, to look for information that validates our thoughts, and to remember things that elicit strong emotions. The non-stop media coverage certainly isn't helping our brains take a break.
What can adults do?
*Facts minimize fear: Get information from reputable resources, not necessarily posts being passed around on social media. The Centers for Disease Control (CDC) and World Health Organization (WHO) are good places to start.
* Take a break from media (news channels and social media).
*Attempt to reframe how you are thinking about this event. Instead of viewing it as an inconvenience, think of it as a sort of "pause" button that may allow you to connect with your child or spouse in a way you haven't been able to in a while. Pay attention to the "good" and how people are working together to support each other.
* Use HUMOR: Humor is a wonderful gift and reduces worry.
* Practice healthy hygiene.
*Enjoy your child/children. This is easier said than done when simultaneously managing work from home. However, even 5-10 minutes of quality time goes a long way with kids. Create new memories, teach them a new skill, let them help in the kitchen, get outside, etc.
Ask yourself, "When this is all over, how do I want to remember this event." Let that question dictate your feelings and behaviors!!
How to talk to children?
Most importantly, parents set the tone for how children will respond to this event. It is very important for you to find ways to control your worry and fear so that it is not placed on children. Too much information can be a bad thing when it comes to kids. Here is a great resource for how to talk with children about the virus:
https://www.cdc.gov/coronavirus/2019-ncov/community/schools-childcare/talking-with-children.html
Below is a Google doc listing with an enormous amount of educational activities for children. Remember, there is a lot of good happening in this time of crisis…someone has already worked super hard to compile this list!!
https://docs.google.com/document/d/1fceqmG0nYAI8uGm5Uv_Ilv5PI72b8iTmGdKag3elrDY/edit?usp=sharing
As always, if you need to talk, don't hesitate to reach out for help. It is available!
Kristin Rose, PsyD.